As a world-experienced, far-travelled host, Maximilian insisted on comfortable beds, running water and functioning WIFI. We have taken the liberty of gallantly expanding this modest definition of comfort from there.
the
amenities
Our rooms are heated and cooled by sustainably generated energy. In addition, you will be happy about a rain shower as well as natural vegan body care products in the bathroom. A French balcony and a King-Size Bed in the bedroom. My dear, what more do you want?
the
style
Round in shape and colour. With many memoirs of Maximilian's journeys. Definitely cozy or as we call it: heymelig. Triggering an in intuitive feeling of home.
Arranged by Salzburg's design muse Pia Clodi.
a timeless
stay
If you're already in post-adventure mode, it's best to go down to the Parterre and see what happy souls and goodies are waiting in our Heymelig Bar. And if you are still in the workflow, look for a retreat in the Chambre Séparée next door, both in the Parterre.
The Maximilian is a good place to arrive; and to come back, over and over again. What makes The Maximilian so special? The quality and the conviction with which we pursue our passion for hospitality. Thinking about today and tomorrow. The open space, Salzburg, and nature. The peace, quiet, and the neighborhood. Choose from one of the 21 rooms – each with at least one French Balcony, which Maximilian insisted on ever since he studied in Paris.
Enjoy your stay in
Salzburg
like never ever
before
Stay timeless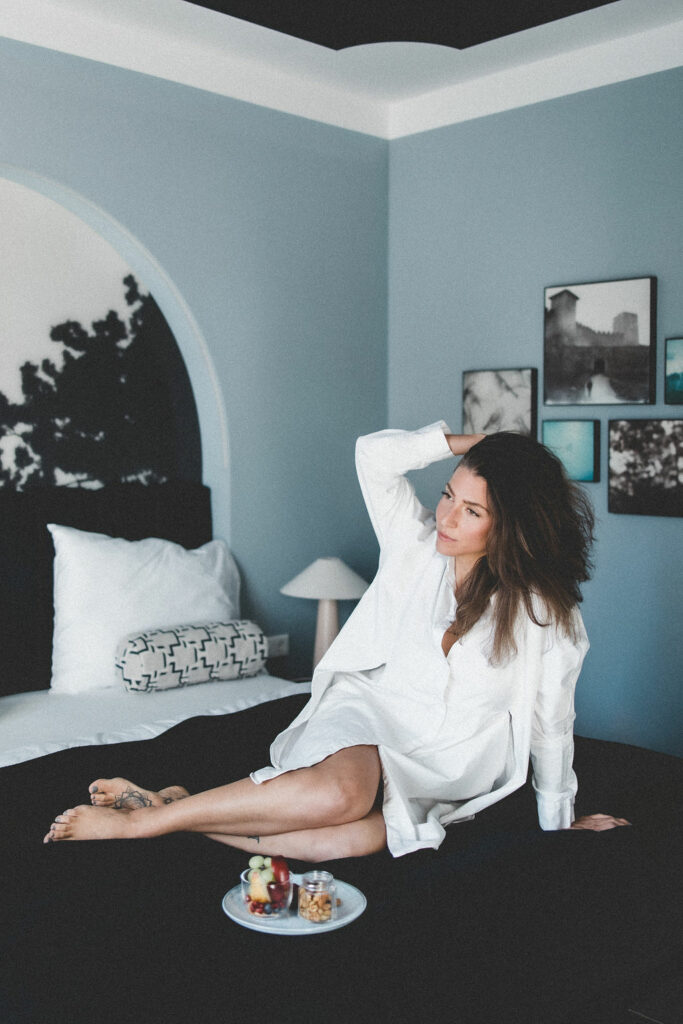 Tiny
— Breakfast included, served delicately in the Parterre
— Cozy room size 14-15 sqm
— Quiet nights in King-Size Beds
— Great views from your own French Balcony
— Green heating and cooling
— from €109
We've already mentioned that blue is Maximilian's favorite colour, haven't we? Not too cold, certainly not exaggerated. With a style rather casual and laid-back. We would describe it much more as heymelig. The Tiny rooms cover approximately 14-15 sqm. Equipped with a King-Size Bed and a generous rain shower in the bathroom – of course, as it is a holiday. For all those who, like us, care for sustainable cosmetics and products, we have provided some for you. Everyone will enjoy the nice post-shower feeling with a nice scent and soft skin.
By the way, it goes without saying that there is a smart flat-screen TV and WIFI in every room.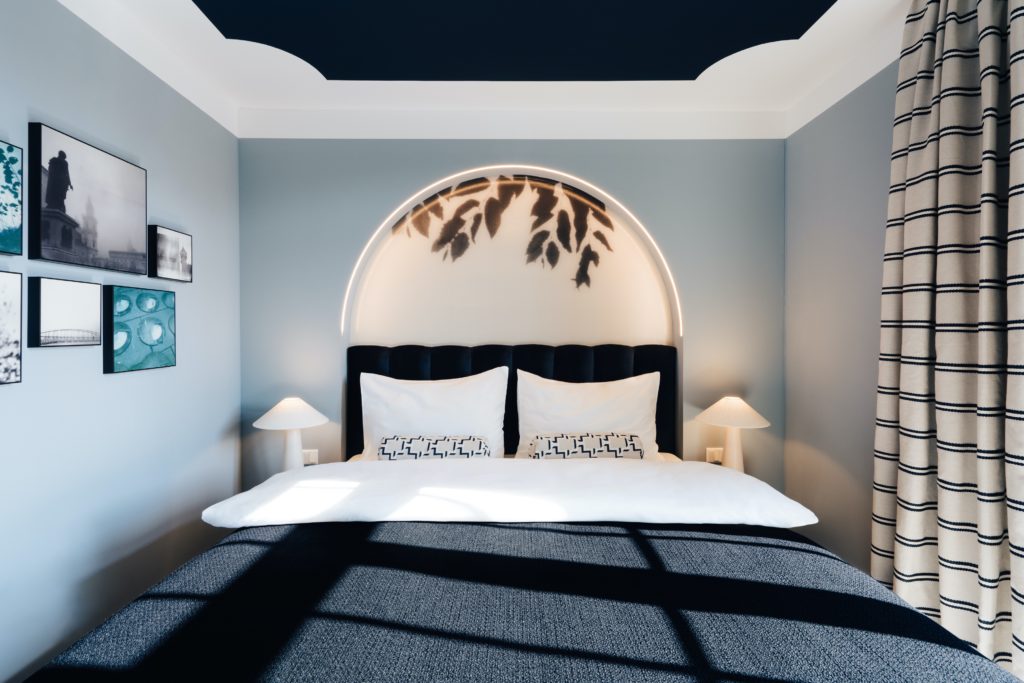 Intimate
— With breakfast in the Parterre
— 16-17 sqm
— Dreaming in a heymelig King-Size-Bed
— French Balcony
— Sustainable cooling and heating
— from €119
If you like it elegant and extra or you simply just like to dance the Can-Can in the morning, the Intimate is the perfect place for you. Heymelig and with a magnificent view at the French Balcony. Equipped with a King-Size Bed, flat-screen Internet TV and an extra bed. A rain shower in the bathroom, accompanied with natural cosmetic care products from the region that are at your disposal. If 16-17 sqm is not enough for you, you can continue dancing in the Parterre.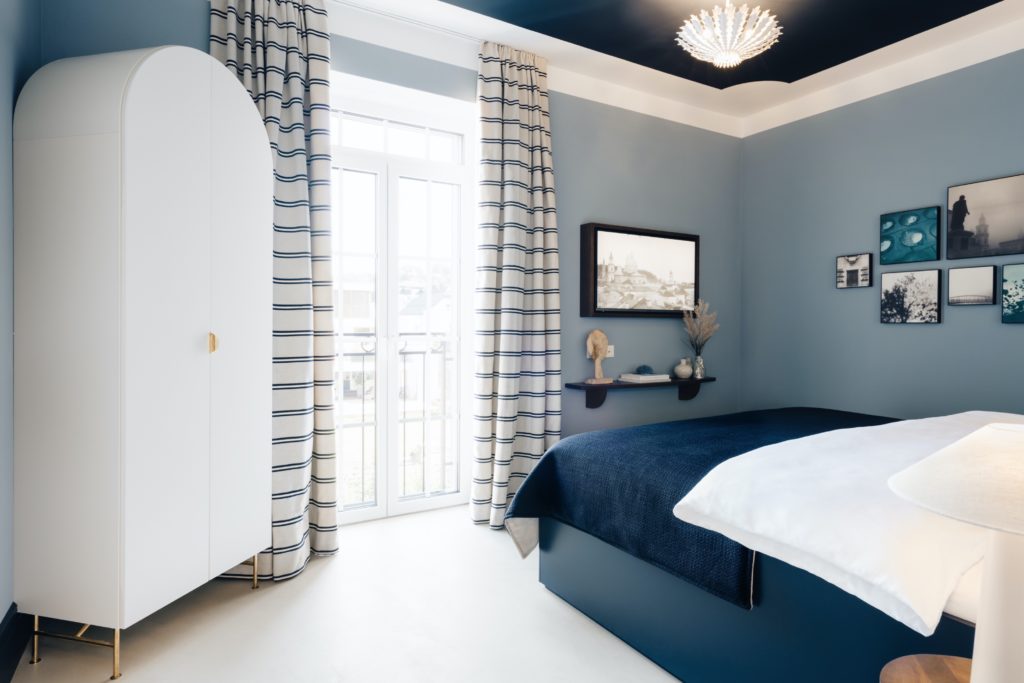 Deluxe
— Breakfast included in the Parterre, delicately served
— 18-20 sqm large
— Bon Nuit in a King-Size-Bed
— Marvelous views at your French Balcony
— Cooling and heating sustainably
— from €129
To forget time and to relax completely, we recommend one of our Deluxe rooms. With an open French balcony and a view of the green neighbourhood, you will definitely fall in love with The Maximilian and Salzburg. Those who like to dance out their joy under the shower will be particularly happy about the rain shower. And all those who feel a Gin Tonic mood afterwards are welcome at the Heymelig Bar downstairs in the Parterre; unless you decide to stay in and dream away in the heymelig King-Size Bed instead. If you want to know exactly, the Deluxe Double Room is approximately 16-19 sqm large, equipped with flat-screen, WLAN and further trimmings.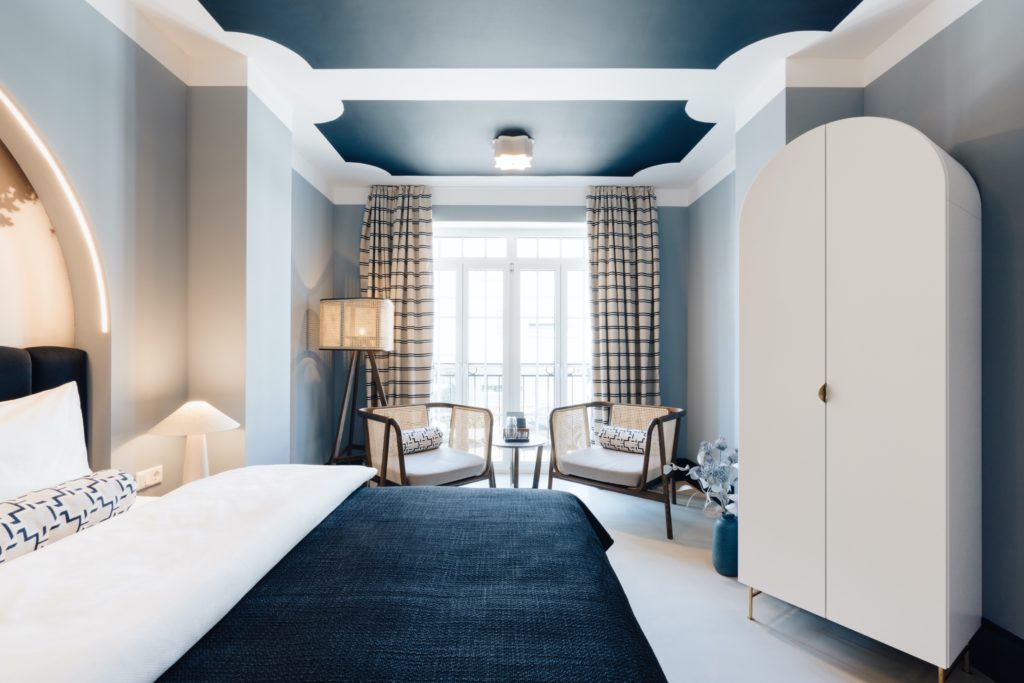 Comfort Deluxe
— With breakfast, delicately served in the Parterre
— approximately 22 sqm
— Bon Nuit in a heymelig King-Size-Bed
— Bellevue at the French Balcony
— Sustainable underfloor heating and cooling
— from €139
On vacation, one has to relax and enjoy feeling at home, away from home. Your head and belly agree on that. In the Comfort Deluxe rooms, you can enjoy a distant view of the surrounding mountains from your own French Balcony. Enjoy the cozy King-Size Bed and the warm rain shower. We also offer complimentary a selection of natural cosmetic care products made locally in Salzburg
Flat-screen TV, fast WIFI and further frippery are of course also included. Would you like another Bon Nuit Salzburg drink? Everything is available for you at the Heymelig Bar downstairs.